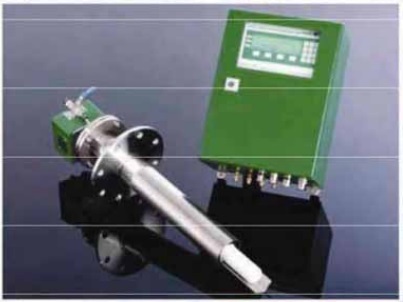 Lưu ý: Tham khảo ý kiến của nhân viên INO sẽ giúp bạn tiết kiệm được thời gian và chi phí khi cần mua sắm. ​​Với sự tư vấn của chúng tôi, bạn sẽ không gặp khó khăn khi tìm hiểu về đặc tính của sản phẩm cần mua.
OXYGEN ANALYZER OXITEC5000
The gas sealed cell is produced by a special sealing technology!
High precision, high stability, and long life duration are ensured!
Automatic startup
Packaged with installation accessories and cable
Functions are kept by the minimum maintenance.
Components can be replaced by the customer.
Gas sampling and processing are not needed.
Suitable for application under high temperature conditions (max. 1400°C)
The oxygen concentration in a gas is measured from the difference in the oxygen partial pressure (pressure that oxygen accounts for in the atmospheric pressure) between the reference gas in the meter body and the measured gas.
Items
OXITEC 5000
Function
Sensitivity
  Below 1ppm O2
Accuracy
  ±0.2%(from measured value)
Resolution
(A/D Converter)
  14 Bit
Controller
Housing
  A)Wall-hanging Type with a window box SS,IP-65
400mmx300mmx225mm
  B)Built-in Type with a window box SS,IP-54
177mmx483mmx360mm
  C)Wall-hanging explosion-proof Type
with a round window box AC
280mmx300mmx240mm
Power Voltage
  115VAC or 230VAC 50/60Hz
Power Consumption
  100-200VA(400VA at start-up)
Recommended Fuse
  10A
Temperature
  -20~+55℃(other temp on request)
Range
  2 measuring ranges,0-99% adjustable
Output
Analogue
  0/4-20mA max.500Ω resistance load
Indication
  System error,maintenance
Relay contact
  System error,maintenance
  Upper limit,Lower limit
  Contact capacity : 230VAC 5A Resistance load
Display
  LCD/LED Graphic display
Interface
  RS232C,RS485,bus compatible
Resource & Download
Lưu ý: Nếu một thiết bị nào đó không được liệt kê ở đây, điều đó không có nghĩa rằng chúng tôi không hỗ trợ được bạn về thiết bị đó.
Hãy liên hệ với chúng tôi
 để biết danh sách đầy đủ về thiết bị mà chúng tôi có thể hỗ trợ và cung cấp.
INO: Bán, Báo giá, tư vấn mua sắm và cung cấp, tư vấn sản phẩm thay thế; tương đương, hướng dẫn sử dụng, giá…VNĐ, …USD info@ino.com.vn | INO Sales: 0869421303 | INO Admin: 028 73000184 | Kansai – OXYGEN ANALYZER (Model:OXITEC5000).