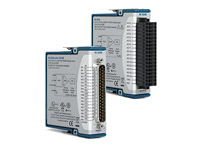 Lưu ý: Tham khảo ý kiến của nhân viên INO sẽ giúp bạn tiết kiệm được thời gian và chi phí khi cần mua sắm. ​​Với sự tư vấn của chúng tôi, bạn sẽ không gặp khó khăn khi tìm hiểu về đặc tính của sản phẩm cần mua.
32 single-ended or 16 differential analog inputs
16-bit resolution; 250 kS/s aggregate sampling rate
±200 mV, ±1, ±5, and ±10 V programmable input ranges
Hot-swappable operation; overvoltage protection; isolation; NIST-traceable calibration
-40 to 70 °C operating range
Spring terminal or D-Sub connectivity The National Instruments 9205 is a C Series module, for use with NI CompactDAQ and CompactRIO chassis. The NI 9205 features 32 single-ended or 16 differential analog inputs, 16-bit resolution, and a maximum sampling rate of 250 kS/s. Each channel has programmable input ranges of ±200 mV, ±1, ±5, and ±10 V. To protect against signal transients, the NI 9205 includes up to 60 V of overvoltage protection between input channels and common (COM). In addition, the NI 9205 also includes a channel-to-earth-ground double isolation barrier for safety, noise immunity, and high common-mode voltage range. It is rated for 1,000 Vrms transient overvoltage protection.

There are two connector options for the NI 9205; a 36-position spring terminal connector for direct connectivity or a 37-position D-Sub connector. To add strain relief and high-voltage protection to the 36-position terminal of the NI 9205, NI recommends the NI 9940 strain-relief connector accessory.

The NI 9205 with D-Sub option has an industry-standard 37-position D-Sub connector that provides a low-cost cabling option to a wide variety of accessories available from NI or other vendors. A number of vendors who provide custom D-Sub cable fabrication services, can provide cables with a pin-out that matches your exact application needs. The NI 9933 (or other 37-pin D-Sub connector) is required for use with the NI 9205 with D-Sub. The NI 9933 includes a screw-terminal connector with strain relief as well as a D-Sub solder cup backshell for creating custom cable assemblies.
Resource & Download
Additional Product Information
Lưu ý: Nếu một thiết bị nào đó không được liệt kê ở đây, điều đó không có nghĩa rằng chúng tôi không hỗ trợ được bạn về thiết bị đó.
Hãy liên hệ với chúng tôi
 để biết danh sách đầy đủ về thiết bị mà chúng tôi có thể hỗ trợ và cung cấp.
INO: Bán, Báo giá, tư vấn mua sắm và cung cấp, tư vấn sản phẩm thay thế; tương đương, hướng dẫn sử dụng, giá…VNĐ, …USD info@ino.com.vn | INO Sales: 0869421303 | INO Admin: 028 73000184 | National Instruments -32-Ch ±200 mV to ±10 V, 16-Bit, 250 kS/s Analog Input Module (Model: NI 9205).